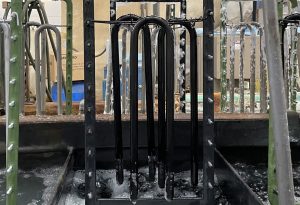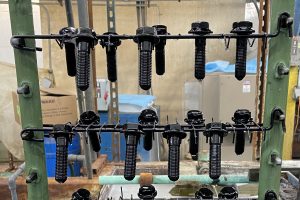 What You Need to Know
Zinc-Nickel offers excellent corrosion protection when applied over ferrous substrates. The actual application is a two-part process, Zinc-Nickel electroplating followed by a hexavalent free passivation coating. The zinc-nickel deposit protects the part from moisture and corrosion, while the passivation coating enhances the overall performance of the finish by preventing white rust formation.   It is not uncommon for the zinc-nickel finish to achieve 240 hours to white corrosion and 1000 hours to red corrosion, based on neutral salt spray testing.
Most agricultural and automotive OEMs continue to focus heavily on zinc-nickel plating as an unbelievable replacement for zinc plating.  Fantastic non-embrittlement properties make zinc-nickel extremely attractive for high strength fastener applications.  This finish is also considered as a direct replacement for cadmium in numerous fastener applications.
Finishing Choices:
Acid based Zinc-Nickel (12-16% Nickel)
Hexavalent chrome free
Clear Trivalent Passivate
Black Trivalent Passivate
Topcoat and Torque Tension Modifiers available
Rack processing only (Barrel coming soon!)
Need a part plated? We can help.
We have eight lines that run 24/7 and an outstanding team committed to quality every step of the way.