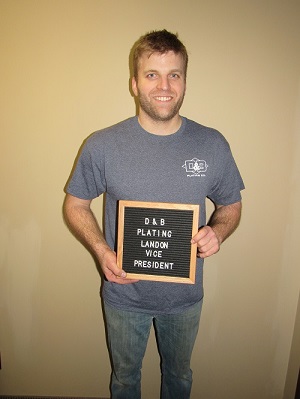 Landon Miller
Vice President
A jack-of-all-trades, Landon is responsible for strategic planning, the quoting department and IT troubleshooting, among about a dozen other things, including putting out fires before they disrupt delivery schedules.
From racking to packing, he's done every job in the plant and, like his brother Gavin, started young by coming in after school and on the weekends to help do whatever was needed. He continued to work at D&B while earning his Marketing degree from the University of Minnesota, where he played rugby. No stranger to long hours, he once worked as a member of the University's grounds crew, a bartender at a nearby campus bar and a D&B shipping clerk—all in the same day.
A woods and mountain man who would rather spend time skiing, hunting, hiking and fishing than sitting on a beach, Landon is married to Amber and they will always treasure one very special Christmas gift—their daughter Madeline who arrived on Christmas Day.